Finally - it's like the Super Bowl of Red Carpet Fashion - The Academy Awards! I love that this is the night where going all out is completely acceptable and sometimes that super girly gown actually fits in with the evening. Trends this year? Metallics were definitely a huge player along with structured gowns. Also I loved the "Old Hollywood Glamour" that several ladies were showing. And a few ladies who I loved were a bit controversial on everyone else's best dressed lists... But I think they look fantastic! Oh and did anyone else love Steve and Alec's hosting job. I was in stitches the whole evening. :) So let's get to my favorite red carpet picks...

Sandra Bullock's whole look right here is very vintage, very old Hollywood Glamour and a step out for the funny woman. Although she never takes herself too seriously, last night she was just glowing. Her gold embroidered Marchesa gown fit her like a glove. She looked absolutely beautiful and gave what I think was one of the best acceptance speeches I have heard in a while. Plus I loved that the jewelry she wore was her own. Sweet and simple. Congratulations Sandy on your little gold statue and a fantastic fashion choice!


I'll admit it - I am a huge Cameron Diaz fan. Her California girl style is so laid back and chic at the same time. But I really do love her glittery Oscar de la Renta gown here. I mean why not wear Oscar to the Oscars?? I love that the bodice is tight and the skirt is perfect - not overly full/way too princessy. Rocking her trademark red lips and lightened locks she keeps everything else simple and added Cartier jewels to her look. Love Love Love! :)
Steering away from the metallic I'm diving right into one of Spring's biggest trends - prints. I am all about bright colors and Rachel McAdams hit it out of the park. Her Elie Saab Haute couture gown looks like Spring came early! I love the bodice detail - absolutely gorgeous. And even though I'm all about the drama I love that the gown is so bright that she keeps everything else simple. But check out these 145 carat Lorraine Schwartz cluster earrings:
Ah-maazzing!
Come on - Did you really think I would pick my best dressed list and not put Diane Kruger on it?? Seriously... Look... At... This. It's gorgeous! Head to toe Chanel. And not only that - but ruffled Chanel. While this was one of the controversial dresses I was referring to in the beginning, I don't care. I love it. Something that only this beautiful fashionista could pull off. And that Chanel broach she added to her Hollywood Glam updo - the icing on the cake. Diane you can do wrong in my book!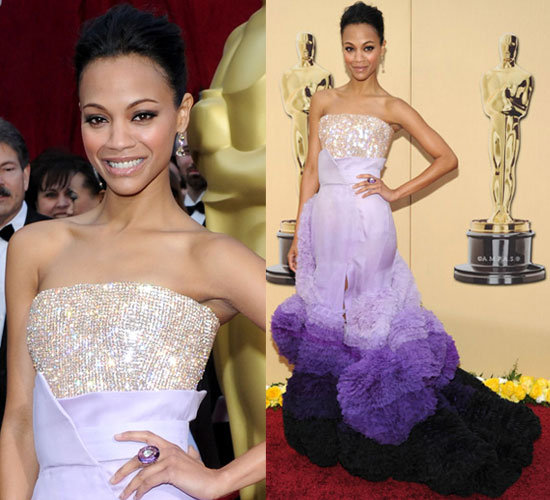 OK... I know you might be thinking I am crazy for picking this but I am in love with this dress. Zoe Saldana might just be the most gorgeous lady in Hollywood right now. She had two blockbuster movies to celebrate and this over the top Givenchy Haute Couture gown was extremely well suited for her. Playing up the latest trend, purple, the glittery bodice and ruffled bottom are an unusual combination - which I am obsessed with. It looks absolutely stunning on her. Super Couture. Super Amazing. Her Lorraine Schwartz Amethyst ring pops and adds an extra dose of purple. Simple hair and flawless makeup complete this look. Dying!!
My honorable mentions: Demi Moore and Maggie Gyllenhall. Demi left her usual blacks and navys behind and went for nude in her Atelier Versace ruffled gown. I have a feeling this might have been a push by amazing stylist Rachel Zoe. And Maggie (ever the fashion forward lady) donned a Dries Van Noten printed dress and gorgeous pink lips.
What are your thoughts on this year's red carpet? Did I forget someone who you loved? Do tell! xoxo