Well ladies... The hour is upon us!! The long awaited Sex & The City 2 premieres tonight at midnight! I would 100% be going tonight but my two girlfriends and I have made a pact to see it together and we could only get together next weekend. So while I wait 10 long days (and I do mean looooong days) I thought I would showcase Sarah Jessica Parker acting like a normal everyday woman who recycles certain clothes and also taking some style cues from her alter ego Carrie Bradshaw.
SJP rocked this white Stella McCartney Blazer while stopping by David Letterman on Wednesday. I did a double take after seeing this and ran back to find the first time we spotted her jacket: A Bravo party back in March! I love that she has used it to cover her dresses. The proportions are spot on and I love the sleeves on the blazer. Both dresses have style and flair so add some chunky jewelry and she's turned a menswear look into feminine chic. Then I thought I recognized those blue Nicholas Kirkwood sandals...
And I had! Sarah Jessica channeled Carrie B a few weeks ago when doing an interview with Access Hollywood. Her Proenza Schouler dress and black shirt pair perfectly with her blazer. It's as if she matched everything while mixing it up at same time (If that makes any sense). Plus she tied in the pink blazer with the pink trim in the sandals. SJP also showed up at a SATC2 after party with lightened locks - homage to Ms. Bradshaw perhaps? I love that the Nicholas Kirkwood pumps bright up her whole outfit and just pop.
Ahem
. Sarah Jessica has said that playing such a style risk taker like Carrie has allowed her to become much bolder with her fashion choices. Personally I love both of these looks. And I love that she isn't afraid to pair her bright and colorful shoes with many outfits. Perfect inspiration for us normal gals!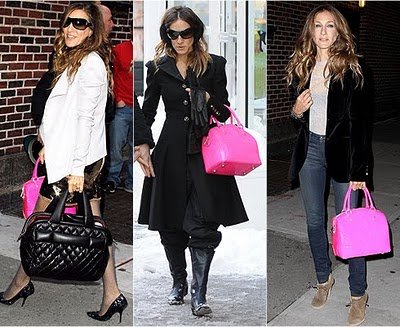 Early this winter you couldn't spot the actress without her bubblegum pink Bonnie Bag from Diane De Maria. The bright color cheered up even the dreariest of NYC days. And she proved it can be paired with jeans, dresses and even black snow boots! So fabulous.
Although these aren't the same dress I would still consider this style recycling. Bright yellow one shoulder dresses with neutral shoes. Yellow is quite a hard color to pull off - especially when it's as embellished or electric as these choices. But she looks flawless and stunning. Her sparkly Lanvin is incredible and Sarah Jessica was the center of attention while she attended this year's ShoWest in Las Vegas. I hate black shoes with yellow so I love the pink and metallic pumps. At the SATC2 New York premiere she paired her gorgeous Valentino gown with deep silver Ferragamo pumps. I am loving that her hair is blonde again creating this whole glow about her. Now if I could just figure out how to get those perfect curls...
images via
FabSugar
,
Glamour
,
Celebrity Gossip
,
Bagloft
,
Zimbio
&
NY Daily News