Ok so I am a little bit late on this post - I've been soooo busy working at the store (non-stop! it's been crazy but that's a good thing!) but I had to write something about the launch of
Rodarte
for
Target
(pronounced row-dar-tay for those of you who don't know) that happened this past Sunday. Jamie (one of the amazing minds behind
ban.do
) and I have been soooo excited about this and talking about it for months. I literally came home from work on Saturday so excited - it was like Christmas Eve and I didn't think I was going to be able to sleep. Then Jamie called me, in a panic/excited state. One of the targets near us put it out early and there was absolutely
no one
there!!!! So I raced over there (to the utter confusion of Billy - men will never understand the things we women do for fashion) and literally tried on every single piece in the collection. my cart pretty much looked like this and the dressing room attendent was none too pleased with me:
There were two pieces that I knew I was going to get for sure but I wanted to try everything on. While I knew this collection wasn't going to be the best quality I was still pretty pleased with the pieces I ended up purchasing. The leopard dress is literally ah-mazing. It's got these cute bows going down the back that give it that vintage feel. The amazingly beautiful Dakota Fanning modeled it for
Teen Vogue
December/January issue (wow has she
grown up
!)
So cute! It's short so totally do-able both the rest of winter with tights and spring! But the piece that I was most excited about and was soooooo happy they had my size was the leopard print jacket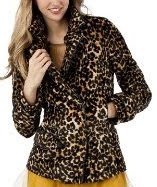 it is
sooooo
fantastic. I had a target gift card from my mother in law Patrisia that allowed me to get this jacket - score! Otherwise I would have been in big time trouble with my hubby... The third piece I took home was a wild card - an orchid pink top with an adorable bow on the neck.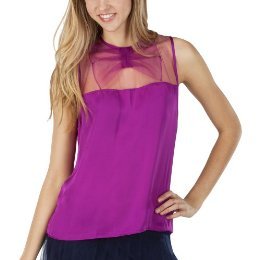 I grabbed it in my frenzy to try everything on and it was the only other piece I truly liked on me. Super girly and lots of fun. The color is very reminiscent of
this Rodarte gown
Natalie Portman wore to the Oscars this past February.
Overall I enjoyed the collection even though a few of the pieces were definiely not for me (either fit was off or just not my taste). I am
super
satisfied with my purchases and already planning on when I can wear everything. The only thing I wasn't able to grab were those cute
bow belts or lace tights
. Oh well - I guess I can't really complain anyways. I got everything I truly needed :) I'm already dreaming about
Zac Posen's
line for April.... xoxo
images via
the thread
,
teen vogue
,
ebay
,
target