Thank goodness the Sunshine decided to make an appearance this weekend at the SAG awards. We've been getting rain non-stop (although I was enjoying it a little bit!) and Saturday was the first peak of sun in 6 days. As with any rainstorm, the sunshine brought a rainbow of colors that headed straight to the red carpet. Bright greens, purples, reds, whites and (finally) hardly any black (yay!) So let's get started with my absolute top favorite pick (I'll give you one guess who you think it is....)
Oh Diane Kruger....Is it normal that I have become this fashion obsessed with you?? This look is absolutely killing me! This one shoulder/off the shoulder mustard colored gown was made especially for her by Jason Wu. Her coral lips and braided hair tie up the whole look and she's full on Hollywood Glamour. Although it is reminiscent of
one of my all time favorite red carpet looks
I still have to give it to her - she's totally knocked it out of the park. Plus she's wearing
vintage Harry Winston
. And they're rubies. ahhh!
My mother and I will always and forever be Kyra Sedgwick fans - and for those of you who haven't ever seen The Closer - you are missing out! Her cream body conscious Vera Wang gown has a hint of the monochromatic trend we saw at the
People's Choice Awards
. I am loving the ruffles, the gray sheer band hits and hugs in all the right places and that broach is just the icing on the cake. Add in her upswept hair and lavender makeup and Kyra looks less bridal and more red carpet gorgeousness.
I think it's safe to say everyone is a "Gleek" at this point. But Lea Michele looked
nothing
like a slushy faced geek in her green Catherine Malandrino gown. Lea has played around with a lot of looks this award season (like
last week's princess dress
- yikes!) but this is definitely her best choice by far. The plunging v-neck, banded waist and ruffled sleeves are fabulous. And even though I've been loving the
shorter curls
lately - her long locks round out this va-va voom look. From total geek to totally chic!
Kate Hudson is usually a fashion fav but I was getting worried when she showed up at the globes wearing this
structured Marchesa
. However she certainly delivered Saturday in this backless Emilio Pucci floor length dress. And she's got the posing down pat. She dropped the black eyeliner going with a softer eye and natural curls. Kate is also literally dripping in jewels as she's wearing $1.75 million in Cartier jewelry (loving that sautoir necklace!). Plus the addition of the side jewel keeps her dress from being too boring taking it from Plane Jane to Fashion Forward.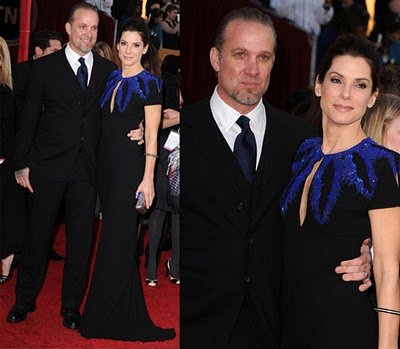 Woah Dynasty - and I mean that in the best way possible. I am loving Sandra Bullock's Alexander McQueen dress - She looks amazing! Even though it's black, that bright blue on the top just pops out. I love that she kind of stepped outside the relm of red carpet gowns and the SAG awards was the perfect opportunity to do that. It was a perfect fit for her body and I love that her hair is pulled back and her makeup looks fresh. Overall Sandy got it right!
Did you have a favorite red carpet look? Do tell! :)
images via
FabSugar
&
Celebrity Gossip