So even though Food Network is always playing at our house non-stop, I've been watching it even more lately with all this Thanksgiving food preperation! If you know me, you know I love to watch anything that's Martha Stewart or Food Network. But since we won't be going home for Turkey Day this year, we are having a big feast with all our friends here in L.A. So here are a few things that I am thankful for...
My wonderful husband Billy! We are complete polar opposites and sometimes I think it's funny that we are together, but I couldn't imagine my life without him... He is an amazing man and I am so extremely grateful and lucky to have him in my life :)
My wonderful family! (This was the only recent picture of the 4 of us - Christmas 2008) The hardest thing about moving to California has been being far away from the three of them. But I am thankful that we are able to stay close with email, phone calls, webcams and occasional visits. I love them dearly and hope they have a great Thanksgiving!

Here is a photo from our wedding of our entire extended family on both sides. This is one of my favorite pictures that was taken! :) We are thankful to have each of these people in our lives. :)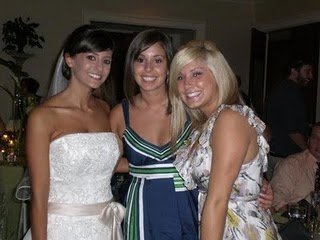 I am also so thankful for my two sets of girlfriends. I have become so close with these girls here on the West Coast and it was one of the things I asked God to provide in my life! And my girlfriends from back home and college are so extremely important. I love that they understand me inside and out and still love me for who I am :) I am so grateful for their friendships.

I am so thankful for Calvary Church and the people that God has placed in our lives to help Billy and I grow as individuals and a couple. That has been one of our favorite parts of moving here to Los Angeles. :)

These are just a few things I am thankful for... What are you thankful for?? Happy Thanksgiving! :) xo