Spring officially kicked off March 20th and it seems celebrities have taken note! Everything from short dresses, to a wardrobe staple are screaming that the mercury on the thermometer is rising! I wanted to share these fashions with you and see if you've already started rocking any looks.
Both of these ladies are sporting the patterned print/tie dye/watercolor trend we saw on the catwalk during S/S 10 fashion week. I love that Jessica Alba's Proenza Schouler frock has a galactic/reptile feel while Kim Kardashian's pink and purple ruffle skirt has more of a feminine edge. Either way they both look ready for warm weather and are double the trends in their short hemlines. Plus Jessica's ocean blue nail polish is fantastic! (Oh and if you want to find out how to make your own creations like Jessica's - Check out
this video
of Proenza Schouler designers Jack McCullough and Lazaro Hernandez on Martha Stewart)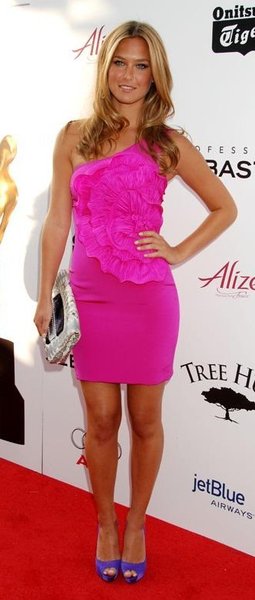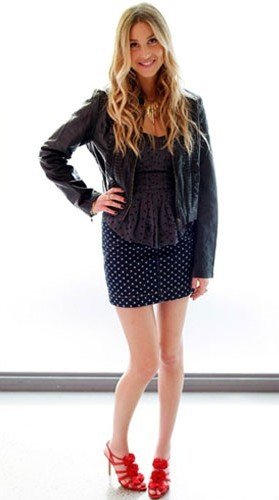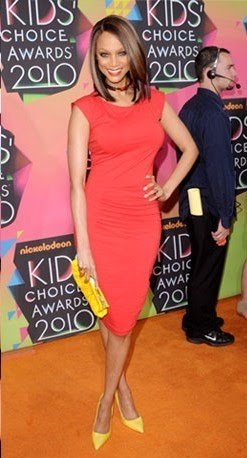 Want to show off your gams in your summer dresses and skirts but need a fresh style take? Add a colorful shoe! I love that these ladies have mixed bright colors with not only black but bold sheathes as well! Bar Rafeli had a head start on this pairing last summer while Whitney Port and Tyra Banks brightened their ensembles a few weeks ago. Check out these super cute
pink pumps
or these adorable
blue platform sandals
as a fun way to mix things up and add a little pep in your step.
I am happy that jumpsuits are here to stay! I enjoy this trend because there are so many different ways you can play up this look. Pair it with flat sandals and a light cardigan for daytime or spruce it up with some sparkles for night time. Either way you'll be looking just as hot as these ladies above. America Ferrera's belt stands out against her black jumpsuit and cinches her figure making her a definite Spring Do. And what girl can't say no to a bargain? Apparently Rachel Bilson! She proves her ability to shop affordable clothing and make it look like it's fantastically expensive. Her
$70.00 Express Ruffled Romper
and gold buckle heels look effortless and Spring chic. I'm glad I can still rock my "one stop shop" piece throughout these upcoming months.
This last trend is one that has been a revolving one for forever! While denim jackets never technically go out of style - (doesn't every fashionista have one in their closet?) they definitely have their shining moments. And I can guarantee that this spring we will be seeing them everywhere. Both Emmy Rossum and Rachel Roy have the right idea using their denim to cover up on chilly spring nights. In addition to being stylish, Rachel's tie dye jacket is one from her own line Rachel Rachel Roy (which I am semi-obsessed with!)

Loving all these spring trends - what do you guys think? xoxo